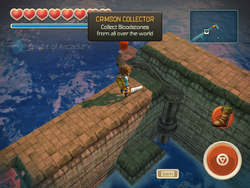 Below is the complete list of Bloodstone locations in the Uncharted Seas. Collecting 40 Bloodstones allows a player to trade them for the Triloth Spell from the Bloodstone Collector. Collecting 55 of them earns a player the Crimson Collector challenge accomplishment and the Apple GameCenter achievement of the same name.
The Hero may collect Bloodstones in any succession and at any point of the game (before fighting the final form of Oceanhorn), but some of them require solving puzzles and/or special equipment items (such as Bombs, Bow and Arrows, and Trencher Boots) to collect.
External Links
Edit
Ad blocker interference detected!
Wikia is a free-to-use site that makes money from advertising. We have a modified experience for viewers using ad blockers

Wikia is not accessible if you've made further modifications. Remove the custom ad blocker rule(s) and the page will load as expected.